Installation is Underway for 14,500 Square Foot Green Roof on New Squash Center
Middlebury, VT – A living, planted roof system is currently being installed atop  Middlebury College's new Squash Center. The LiveRoof® Hybrid Green Roof System was selected for the living roof system, which should be completed by Friday, August 22.
The new Squash Center opened last fall, with expanded playing space that has allowed for growth of the Middlebury Squash program.  Men's and women's teams are able to practice simultaneously, the college is able to host more matches and tournaments, and the varsity athletes use the space to host training clinics for local youth.
"The green roofs help contribute toward our initiatives to provide a sustainable living and learning environment for our students," said Mark Gleason, the squash center project manager with Middlebury College.
According to Gleason, "The plants and soil on the rooftop help to retain and filter rainfall, reducing demand on local water treatment facilities and impact on nearby waterways.  In addition, the plants beautify and naturally cool the building, allowing for a more comfortable playing space for the athletes at a reduced air conditioning cost."
The modular green roof system will be delivered fully grown by Prides Corner Farms, the regional grower for the LiveRoof system, and will be installed by Apex Green Roofs.  The green roof was designed by ARC / Architectural Resources Cambridge to look like an extension of the greenery of the athletic playing fields which surround the squash center.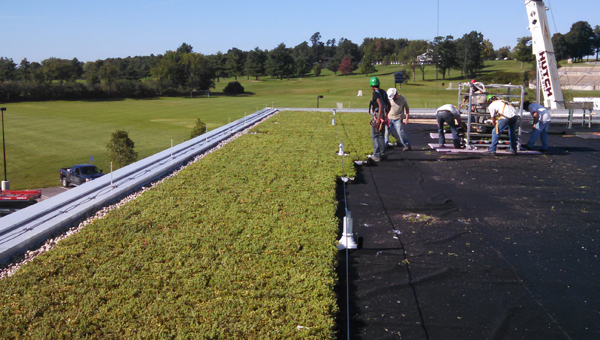 "The green roof uses locally sourced plants and soil and was custom grown under our care," said Jim Costello of Prides Corner Farms.  "The day that it is installed, the plants will be fully mature, which will provide instant gratification with low maintenance requirements."
Featured on WPTZ – Green Living Roof Going in at Local College
Featured in the Addison Independent – Middlebury College seeds squash center with new green roof
— more —
About Middlebury College – Middlebury College (www.middlebury.edu), one of the country's leading liberal arts colleges, offers a rigorous liberal arts curriculum that is particularly strong in languages, international studies, environmental studies, sciences, and literature. About 2,450 students attend Middlebury, which was founded in 1800 and is located in the town of Middlebury in Vermont's Champlain Valley. With the Green Mountains to the east and the Adirondacks to the west, Middlebury has established itself as a leader in campus environmental initiatives, with an accompanying educational focus on environmental issues around the globe. The college's strong international dimension has extended its borders beyond Addison County, and includes Middlebury's Language Schools, Schools Abroad, Bread Loaf School of English, Bread Loaf Writers' Conference, School of the Environment, and the Monterey Institute of International Studies.
About Prides Corner Farms, Inc. – Prides Corner Farms (www.pridescorner.com) is a family owned regional grower based in Lebanon, CT that has built its business over the last 30+ years by virtue of its incredible product diversity coupled with customer service that has set the standard for the industry.  Based in Lebanon, Connection Growing over 2200 varieties of plants on 350+ acres, Prides Corner Farms has unparalleled local expertise.  Since 2007, Prides Corner Farms has supported local designers and contractors as a leading supplier of green roof systems, and has custom grown over 100 LiveRoof brand green roof projects for the New England area.
About LiveRoof – Based in Spring Lake, Michigan, LiveRoof® Global, LLC (www.liveroof.com) is the top horticultural science company in the green roof industry.  Exceptional in design and function, the LiveRoof® Hybrid Green Roof System is the proven green roof system. LiveRoof establishes a healthy, sustainable ecosystem covering rooftops with seamless vegetation. Licensed regional growers customize plant selection for every LiveRoof project. They deliver the system's modules abundantly vegetated with locally cultivated, full-grown plants for an instant green roof and trouble-free ownership.  LiveRoof has been used on over a 1000 projects totaling more than 4,000,000 square feet.
###