Roof Top Sedums, a women-owned small business based in Davenport, Iowa, is now the exclusive distributor for LiveRoof® brand planted roof systems in St. Louis, Jefferson City, and Columbia.
LiveRoof Global, LLC, the leading horticultural science company in the green roof industry, is announcing the expansion of the service region of its licensed grower Roof Top Sedums for its patented living roof systems.  Roof Top Sedums has custom grown more than 60 green roof projects in Iowa, Kansas, Nebraska and parts of Illinois and Missouri.  This service region has been expanded to all of Missouri, including St. Louis, Jefferson City, and Columbia. Additionally, the company will service Springfield, Illinois and surrounding areas.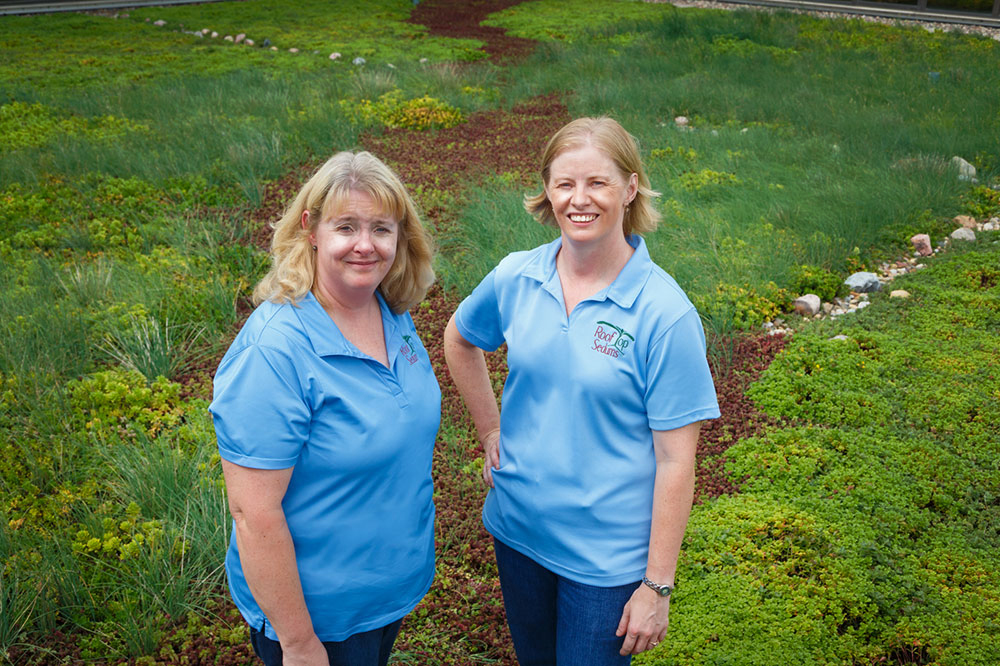 Roof Top Sedums, owned and managed by Teresa Nelson and Roxanne Nagel, is a nationally certified Woman Business Enterprise (WBE).  The company has recently received special designation by the State of Illinois as a woman-owned business.  Nagel and Nelson are both accredited green roof professionals with hands-on experience consulting on over 100 green roof projects.
In 2007, Roof Top Sedums became the first company dedicated to supplying green roof systems in the state of Iowa, and one of the first licensed growers of LiveRoof brand systems.  Nagel, a horticulturist, previously managed a family greenhouse operation, and Nelson (ASLA, LEED AP BD+C) worked as a landscape architect and green building design professional.
"I first was involved with LiveRoof as a landscape architect.  I found it very easy and stimulating to design with the system, so much so that I jumped on the opportunity to be a part of the organization," recounts Nelson. "In the past ten years, we have grown through focusing on continual improvement to stay at the forefront of the rapidly developing industry.  We are excited to use this opportunity to interface with and share our experiences with more designers, contractors and building owners."
The name "Roof Top Sedums" reflects a majority of the green roofs that the company supplies, which are lightweight systems, planted with a blend of cold-hardy succulents primarily of the genus Sedum.  These shallow-rooting alpine plants are a favorite of green roof designers for their ability to withstand winter's cold and to store water inside their fleshy foliage during periods of drought.  A growing portion of the business is for an expanded palette of plants, including adapted and native perennial forbs and grasses.
"We do so much more than our name implies," says Nagel.  "We are supplying green roofs in a range of soil depths with hundreds of plant options.  We grow natives such as black-eyed susan, coneflowers and prairie dropseed as well as adaptive favorites like alliums, liatris, and feather reed grasses.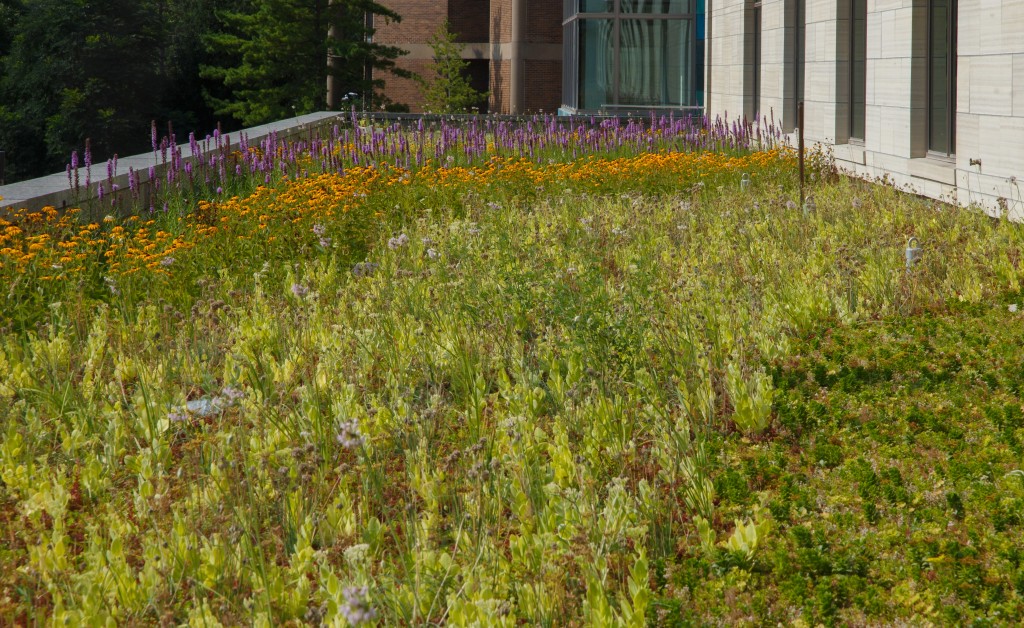 "Roof Top Sedums has provided first-rate service and high performance green roof systems since they joined our network nearly ten years ago," says Amber Ponce, business development manager of LiveRoof Global, LLC.  "We are confident that their skills, experience and commitment to quality will prove an asset for green roof developments in Columbia, Jefferson City, St. Louis and Springfield."
Green roofs help cities control untreated stormwater runoff and sewage discharge.   Many Midwestern cities have combined sewage overflows, which means that during the wet season, untreated stormwater can mix with raw sewage and overflow into local waterways.  Green roofs help to absorb and slow down rainfall, which eases the burden on these systems.  This means healthier waterways and lower costs of treatment and cleanup.
LiveRoof is a patented, subterranean modular system that unites soil and plants creating a beautiful, meadow-like aesthetic. These green roofs provide numerous, significant environmental benefits:
Reduces annual stormwater runoff by 50 – 90 percent.
 Lowers interior sound levels by as much as 40 decibels.
Improves air filtration; one square foot of green roof can filter seven ounces of dust and smog per year. Plant photosynthesis also reduces greenhouse gases in the air.
Increases roof life; soil and plants reduce temperature fluctuations on roof membranes, increasing the roof service life by as much as 200-300 percent.
Communities which incorporate green infrastructure can also expect to mitigate the urban heat island effect, while reaping energy conservation value, and gaining habitable space when including patios, walkways and seating in the rooftop garden design.
A planted roof also provides financial benefits, including extension of roof life, reduction in energy use, and conservation of municipal septic systems.  Employers can experience significant gains in productivity and up to a 10% reduction in absences by adding natural views such as those provided by green roof systems. (1)  Green builders and remodelers can expect between 10–19 percent higher return on investment, as much as 10 percent increased building value, while enjoyed a marked reduction (up to 14 percent) in building operating costs. (2)
(1) Terrapin Bright Green LLC. "The Economics of Biophilia – Why designing with nature in mind makes financial sense" TerrapinBrightGreen.com. https://www.terrapinbrightgreen.com/report/economics-of-biophilia/ (retrieved February 2016)
 (2) Bernstein, Harvey M. "Green Outlook 2001: Green Trends Driving Growth through 2015" EcoCosm.com. https://www.ecocosminc.com/img/2011_McGraw_Hill_Green_Outlook.pdf (retrieved February 2016)
About Roof Top Sedums
Roof Top Sedums was established in 2007 and is a Regional LiveRoof® Licensed Grower servicing Iowa, Western Illinois, Nebraska, Kansas, and Missouri. The business is 100% women-owned and certified nationally as a Women's Business Enterprise as well as an Iowa Targeted Small Business.
 Features
Green roof company keeps growing, Quad City Times, April 9 2016