In response to designer demand for an artisan quality green roof paver which integrates with LiveRoof®, and contractor necessity for labor-saving solutions, LiveRoof developed the RoofStone® paver system.  RoofStone pavers are designed to integrate seamless with the LiveRoof Standard and Deep system options.
Features:

 Size: 1′ wide x 2′ long x 4″ tall (Standard) or 6″ tall (Deep)

 Weight:  50 lbs (Standard) or 54 lbs (Deep)

 Finish:  Beautiful artisan surface, top edge chamfered, sides with chip preventing water-conducting standoffs.

 Edging:  Only required if paver abuts open space.

 LEED Interface:  Base of 100% post-industrial polypropylene.  Concrete recycled content varies with color of paver.
Available in 5 Attractive Colors: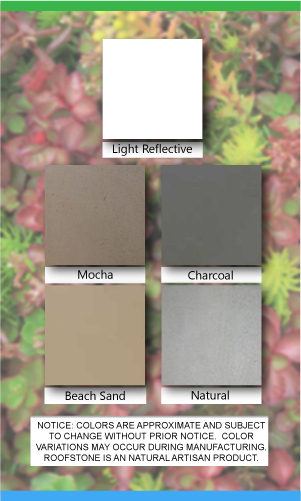 ---
Advantages

 Integrates with weight, height and dimensions of LiveRoof® Standard & Deep modules.

 Built-in handgrips and pedestals for fast, efficient installation.

 No edging needed between RoofStone® paver and LiveRoof®.

 Follows roof contour.

 Perfect for pathways / landings and patios.

 Recycled plastic base.

 Strong & effective, resists impact and cracking with NanoTech MicroBubble™ technology.

 Ample water channels
RoofStone follows the roof contour and can be used to create walkways, patios, and landing areas on most non-ADA compliant roofs. RoofStone can also be used on roofs that must be ADA-compliant with slope up to 1:48, which equals 2.08% or 1.19 degrees. This is ¼ inch per 1 foot, which is the norm (minimum) roof slope for drainage
Download the Product Warranty, Specifications, Brochure, or Installation Instructions.