A 7400 sq. ft. LiveRoof® Green Roof ready to install now on KU's Capitol Federal Hall, to inspire environmental leadership focus in tomorrow's business leaders.
A 7400 square foot LiveRoof® green roof will install on Capitol Federal Hall at the University of Kansas School of Business (KU) beginning March 28. The green roof will serve as a focal point for students and faculty to examine new practices for creating economic prosperity, and maintaining social responsibility. The building's design, set to stimulate entrepreneurial innovation by providing a complementary lush, vibrant planted rooftop for students with a tranquil study space.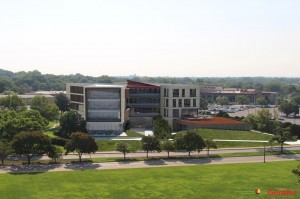 "Through its innovative design and features, the Capitol Federal Hall honors our school and its traditions," said Jim Guthrie, associate dean, the KU School of Business. "KU embraces a sustainability culture we feel is vital to growing the next generation of remarkable business leaders. Our new building will support our mission of teaching and knowledge creation in a collaborative, supportive climate."
Capitol Federal Hall will celebrate its public grand opening on May 16. The four-story, 166,500 square-foot building will be the largest facility at KU financed through private support. The $70.5 million facility has a north and south wing, joined by a central atrium. With ample natural lights and views, it will house 18 classrooms, a 350 seat auditorium, 205 offices and labs and spaces for students' use, with state-of-the-art technology throughout the building. Located on 1654 Naismith Drive, across from Allen Fieldhouse, the School of Business will form a new southern gateway to the KU campus.
"The KU School of Business has delivered a remarkable student-focused design in the new Capitol Federal Hall," said Roxanne Nagel, Co-Owner of Roof Top Sedums. "It supports entrepreneurial innovation with open, breathable work-study spaces. At the same time, the school continues to emphasize the importance of sustainable stewardship among tomorrow's business leaders."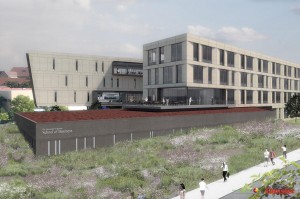 Roof Top Sedums has grown a custom-mix of drought-tolerant sedum plants for the new green roof at Capitol Federal Hall. Livability planners and designers, Vireo, created the green roof design, JE Dunn is the general contractor, and Lawrence Landscape will install the green roof on Capitol Federal Hall.
LiveRoof is a patented, subterranean modular system that unites soil and plants creating a beautiful, meadow-like aesthetic. These green roofs provide numerous, significant environmental benefits:
Reduces stormwater runoff by 50 – 90 percent
Lowers interior sound levels by as much as 40 decibels
Improves air filtration; one square foot of green roof can filter seven ounces of dust and smog per year. Plant photosynthesis also reduces greenhouse gases in the air
Increases roof life; soil and plants provide a protective barrier, along with a waterproof roof lining, to extend roof life by as much as 200-300 percent.
Green roof owners can also expect to mitigate the urban heat island effect, while reaping energy conservation value, and gaining habitable space when including patios, walkways and seating in the rooftop garden design.
A planted roof also provides financial benefits including: energy conservation and conservation of municipal septic systems. Green builders and remodelers can expect between 10–19 percent higher return on investment, as much as 10 percent increased building value, while enjoyed a marked reduction (up to 14 percent) in building operating costs. (2)
 (1) Terrapin Bright Green LLC. "The Economics of Biophilia – Why designing with nature in mind makes financial sense" TerrapinBrightGreen.com. https://www.terrapinbrightgreen.com/report/economics-of-biophilia/ (retrieved February 2016)
 (2) Bernstein, Harvey M. "Green Outlook 2001: Green Trends Driving Growth through 2015" EcoCosm.com. https://www.ecocosminc.com/img/2011_McGraw_Hill_Green_Outlook.pdf (retrieved February 2016)